---
Civil War Project
Wanted by Immediate Past President John T Goodnough, details on American Civil War, 1861-1865 involvements of Goodenows (and all variations in the spellings) and Goodenow sons.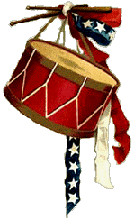 This project is intended to provide a fitting memorial to those who sacrificed to maintain the Union and eliminate the practice of slavery in our country. The final form of the publication will depend on how much information we are able to gather and organize before the end of 2010. It will be published to mark the Civil Warís sesquicentennial years, 2011-2015.
At the time the conflict began, there were thirty-four states in the Union; eleven of them broke off to form the Southern Confederacy. We guess that a tiny fraction of Goodenow family members had southern sympathies; at least one allegedly served in the Rebel Army. Any information available on ancestors with the Goodenow name (or its variations) who served in the army, navy, marines, or as special civilian participants (e.g., military railroaders, medical corps members, military telegraph service operators) is sought. Information is also welcome on servicemen with non-Goodenow surnames whose mothers' maiden name was Goodenow.
After youíve found reliable sources in such places as federal or state military archives/records, pension records, municipal enlistment/muster rolls, local libraries or museums including GAR museums, and family records (donít forget any which might already be in GOODENOWS 1638 A.D., to which you can add other information youíve come across!), please send it to John T Goodnough, Immediate Past President of GFA, 24 Pamela Drive, Binghamton NY 13901. No original pictures or letters, please.

Here are a few things you should look for:
Service manís name
Parentsí names
Date and place of birth
Occupation at time of enlistment
Date and place of enlistment
Term of enlistment
Muster Date (the date on which he took the oath and was sworn in)
Assigned unit(s)
Rank at enlistment and discharge Promotions/Commissions
Battles and campaigns in which they served
War wounds or illnesses
Awards andDecorations
Membership in Veteransí organizations
Marriages
Photographs
Articles about them
Death Date
Place of Burial
Draft or Bounty information concerning their service.



Please provide as much information as possible, including relationships to family lines appearing in
GOODENOWS 1638 A.D.
, if known.
Email John Goodnough with any questions. With input from members and nonmembers, and the research John is doing, this will be a wonderful treatise.
---