---
About Us
The Goodenow Family Association, Inc. is a group of families descended from five Goodenows who immigrated from England in 1638 on the ship Confidence and settled in Sudbury, Massachusetts. The name is spelled various ways including Goodenough, Goodnough, Goodno, and Goodnow among others.
The Association, formed in 1988, publishes a quarterly newsletter, Goodenows' Ghosts, which shares news, history and lineage information about Goodenows worldwide. Back issues are available for purchase. GFA's hardcover book, Goodenows who Originated in Sudbury, Massachusetts 1638 A.D., by Theodore James Fleming Banvard (1994) was awarded second place in the 1995 Anna Ford Book Contest by the Heart of America Genealogical Society and Library, Inc.
The first 4 generations of Goodenows descended from the immigrants to Sudbury are presented on this site. The Goodenow database, containing more than 48,000 names, may be queried by e-mailing the database manager.
---
What's New?
Personal GFA Database. A digital copy of the full GFA database is available for purchase, by GFA members only, for $50.

You have a choice of digital medium: (1) a USB flash drive, (2) a CD, or (3) a DVD. You must also select from two different genealogy database formats: (1) in Legacy Family Tree, or (2) as a GEDCOM file.

The contents of each flash drive, CD or DVD will include: the primary database of 65,936 listings; a secondary database of persons not (yet) connected to the immigrants, with 3,055 listings; and two presentations made at the 2014 reunion – Hal Cutler's "Puritan's Make A Village" presentation and Robert Goodenough's presentation on Bob Goodenow.

NOTES: (1) No software is included; purchaser is responsible for acquiring needed software. Free versions are available for both Legacy Family Tree and GEDCOM; to access full capabilities of Legacy Family Tree, users must purchase the Deluxe version. (2) For technical reasons, we cannot g uarantee that 100% of the Notes in the Legacy Family Tree file will be transferred intact into GEDCOM.

An updated Digital Database will be available for ordering after Thanksgiving, November 23, 2017. Those who own a digital version of the GFA database are eligible to order an updated database. The cost is $10.00 and the now-outdated digital media must be returned along with the payment and order form.


The GFA is now on Facebook! Please like us and add your news, stories and photos.


Help Wanted! On-going research projects for which member input is solicited are:


Goodenows in World War I - send to John T. Goodnough
Goodenows in the Civil War - send to John T. Goodnough
Compilation of Goodenow Research Sites - send to Kathy Truesdell



Results of the Goodenow-surnamed DNA project.


Queries:



Anna Hoyt Lyon is seeking a photograph and information on Robert Goodenow (19 April 1800-15 May 1874); during his life he served in the U.S. Congress and was a lawyer in Farmington, ME. She may be contacted via email (a.lyon 'at' franklinsavings.com) or through the GFA Facebook manager, Christine Banvard-Fox (cbanvard19 'at' gmail.com). The Ghosts editor would also appreciate being copied on any responses (ceegeebea 'at' aol.com).



---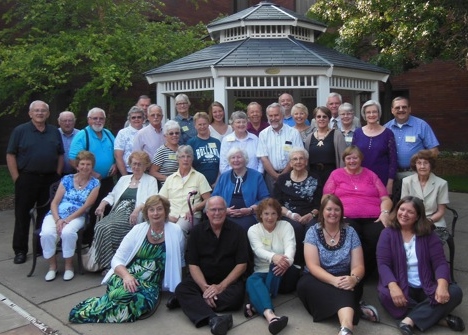 Reunions
Reunions are held every other year at various places associated with the Goodenows.
The next biennial reunion of the Goodenow Family Association will be headquartered in Sudbury, Massachusetts in July 2018. The "Early Bird" Program is July 16-18 and the Main Program is July 18-22, 2018. Reunion Coordinators are Hal and Betsey Cutler. 2018 will mark the 380th anniversary of the arrival of John, Thomas, Edmund and Ursula Goodenow in the Massachusetts Bay colony. All members are invited!
---
Goodenow Family Tours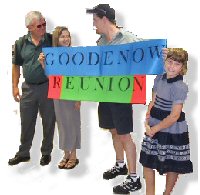 In 1996, Goodenow Family members embarked on the inaugural trip to the West Country of England to visit the ancestral home of the Goodenow immigrants.


A cruise ship voyage carried members up the inside passage to Alaska after the 2002 Seattle reunion.


The Family visited South Africa, home of former GFA president Stan Goodenough in 2003.


The GFA returned to England in July 2007 to visit various sites related to the Goodenow immigrants.


---
Last Updated 6 December 2017

©The Goodenow Family Association, Inc. - Contact webmaster. Submit query to database manager.